Retail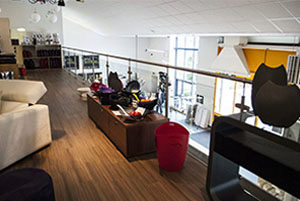 Discover new square footage you didn't know you had and reap the benefits of better service and more sales with Invicta Mezzanine Floors' configurable, space-saving retrail mezzanine solution. Invicta Mezzanine Floors is a leading designer and installer of contemporary high-performance retail mezzanine floors that are built to British standards and regulations to protect public health, safety and general welfare. Using the highest quality materials and products, our retail mezzanine floors are built-to-code and built-to-last.
With intelligent design solutions and high standards of finish, our retail mezzanine floors are engineered to fit seamlessly into your retail premises and can be installed into almost any space from floor to ceiling. The combination of lightweight construction, superior powder-coated finish and a wide range of colour options makes Invicta Mezzanine Floors ideal for your retail environment.
If you are looking to make use of the vertical headspace you already have within your retail premises to exhibit more stock, have more back-of-store storage for merchandise, or even a new office workspace, adding a mezzanine floor could be the solution.
We ensure compliance with all building, safety, and fire regulations as part of our mezzanine design and installation process and we deliver a completely integrated mezzanine floor solution, well-suited to your precise function, specification, budget, and workspace. Contact us today for more information or call to speak to one of our mezzanine floors specialists who will be very pleased to assist and advise you on your project.