Mezzanine Floor Goods Lift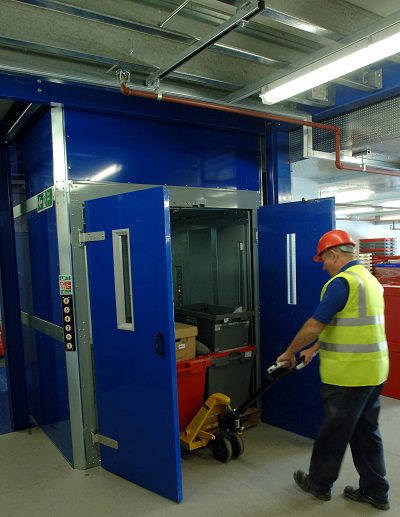 Invicta's turnkey mezzanine floors service allows us to go above and beyond other mezzanine providers. As well as designing, engineering and deploying your mezzanine floor project, we also offer a range of ancillary services – most notably our mezzanine floor goods lifts.
Our mezzanine goods lifts can handle loads of up to 500 kg, moving loads between the ground floor and one or more floors of the mezzanine. Each lift design is tailored to your specific mezzanine floor project and budget, without compromising on safety or efficiency. This makes our goods lifts integral to mezzanines which are intended to support racking, pallets, archival, production, storage and other heavy usage scenarios.
Our mezzanine goods lifts are also:
Simple to operate and maintain
Secured with electrically and mechanically interlocked gates
Equipped with a mesh enclosure
Equipped with push to run controls and emergency stop buttons
Fitted by a dedicated installation team
Our ability to match your timescale and resources with our design expertise is unmatched. Our goods lifts can be built to a variety of standards, suiting different load capacities, lift heights, power controls, frequencies of use and paint finishes.
For more information on our mezzanine goods lifts or to talk to an advisor about your new project, get in touch with us today.