Industrial Access Stairs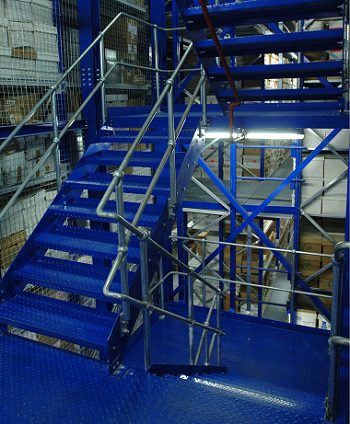 When it comes to designing a mezzanine floor for your business, the access requirements are as important as the space itself. For most mezzanines, the primary access point will be a staircase. Our British Standards compliant mezzanine staircases are sturdy, safe and effective, offering efficient and secure access to any mezzanine floor or elevated work area.
Our industrial general access stairs are designed and built to the highest possible standards, and are fully compliant with Approved Document K for full protection from falls and impacts. Their steel construction, 1-metre spaced handrails and open or closed rises all guarantee safe and easy access, whether you are in an industrial or office environment.
Our combination of design and installation experience allows us to build access points into your mezzanine design, catering to the specific dimensions and requirements of your space. We also offer a range of alternate access points, including lifts and gates for workers and goods.
To learn more about our industrial stairs or discuss your specific mezzanine needs, contact our advisors today.