Single-tier Mezzanine Floors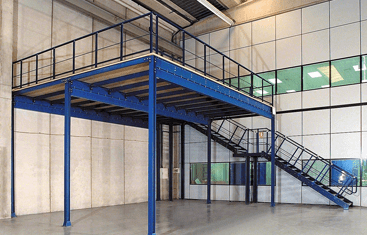 For an adaptable and high performance mezzanine solution, look no further than our single-tier mezzanine floors. These freestanding structures are perfect for companies looking to expand their available floor space, while minimising the disruption to their business.
Steel columns support a single additional floor, which can be used for storage, production or additional office space. Lifts and stairs can be integrated to provide a multitude of access options, depending on the floor's intended purpose.
The team at Invicta Mezzanine Floors have perfected our craft over 25 years of operations, masterminding both the design and installation of unique mezzanine floor solutions. Our single-tier mezzanines are built to spec, melding seamlessly into any working environment.
Our design team will work closely with your business to develop the perfect single-tier mezzanine, specific to your space. Our projects can accommodate existing columns and other obstructions in your space, melding infrastructure such as lighting, ducts, sprinklers and cables into the floor's structural framework.
Using a variety of column spans, our single-tier mezzanines are built to match your precise specifications and budget. We can also offer high quality finishes to match your company colour scheme, as well as fire rated suspended ceilings for the underside of the structure.
View the case studies and gallery photos below for examples of our previous single-tier mezzanine projects, or contact us today to see what we can do for your business.